Defend Child Pornography Charges
Crime Statistics
Child pornography offences are serious sex crimes in Canada. Between 2014 and 2020, there were 10,379 cases of online sexual offences against children, and 29,028 incidents where the victim could not be identified. Child sexual offences committed online were more likely to be found guilty with up to 61% of cases resulting in a guilty conviction. There were 11,790 cases of child pornography cases discovered in 2021.
Incidents which involved Making or Distribution
Incidents where the Victim could not be Identified
Likelihood of being Charged once Reported
Child Pornography Cases Discovered in 2021
Our Experience
Donich Law has experience representing clients charged with complex child pornography offences. We have attained successful outcomes in cases involving the cooperation international law enforcement agencies including the FBI, the U.S. Department of Homeland Security, the National Centre for Missing and Exploited Children, Europol, and the New Zealand Digital Child Exploitation Team. Due to the many agencies potentially involved, suspects often do not know they are being investigated until police arrive at their doorstep with a warrant.
In 2020, the Firm represented an individual charged with various child pornography offences including making and possessing child pornography as well as voyeurism charges in R. v. A.B. [2020]. The Firm litigated the matter for two years, eventually proving that the accused could not have created the material in question using system images of the devices seized from the accused. The Firm ultimately secured the withdrawal of several of the charges.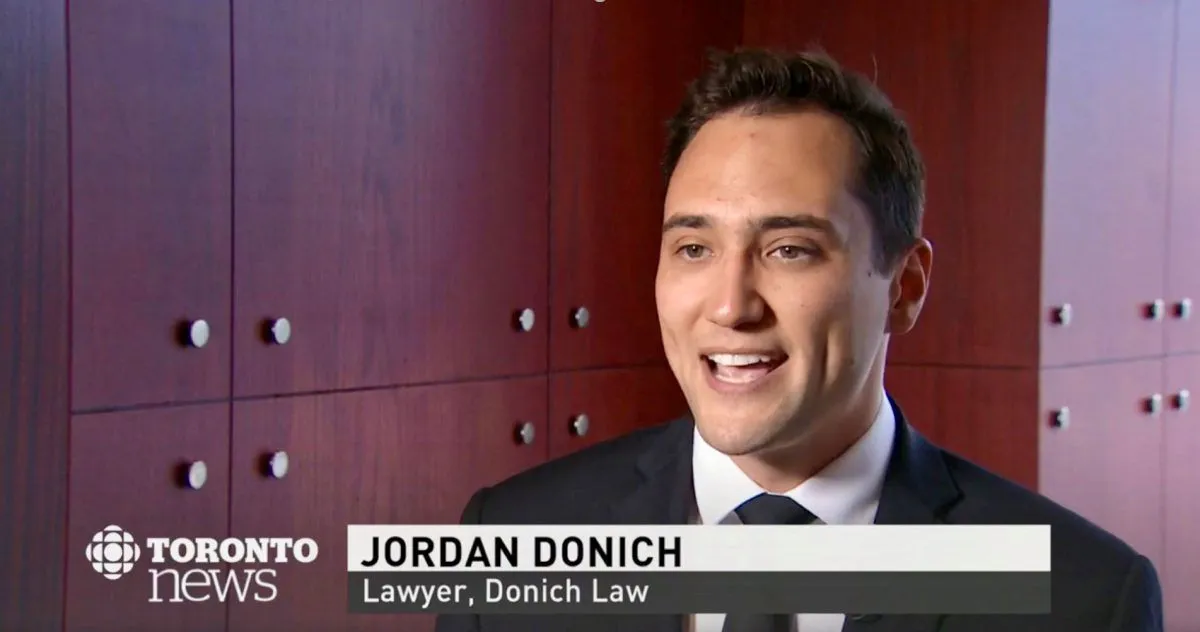 In 2019, the Firm represented an individual charged with various child sexual offences in R. v. A.E. [2019]. Given the nature of the charges, the accused was placed on strict bail conditions, which prohibited him from having access to his own children without prior CAS approval. The Firm challenged the bail condition in court, successfully having it overturned, allowing the accused access to his own children.
There were 52 cases of child pornography in the Kitchener-Cambridge-Waterloo region in 2018, out of a total of 1,669 cases in Ontario and 5,843 cases in Canada. In 2021, Waterloo Regional Police Services Cybercrime Unit reported there were 236 Internet Child Exploitation investigations, and 154 internet child exploitation charges.
In addition, the police services reviewed 25,640,660 images, and 2,182,544 videos of internet child exploitation. Police services across Canada has seen a rising trend in the sharing and downloading of child pornography or child sexual exploitative material (CSEM). This is in part attributed to the proliferation of technology in work and education due to the pandemic.
Internet Child Exploitation is a Global Problem
In R. v. M.O. [2021], the Firm secured the withdrawal of two possession of child pornography charges after almost two years of Crown negotiations. The Firm forensically analysed the alleged unlawful material, challenging whether it constituted child pornography and ordered and analysed the Production Warrant and Search Warrant used in the case to secure the withdrawal.
The Firm has defended a number of High Profile Child Pornography allegations where Microsoft, Google and Twitter have sent cyber tips to the National Child Exploitation Coordination Centre (NCECC)  located in the United States, which have ultimately been used as a basis for Production Orders from Rogers Communication and Bell by Toronto, Halton and Peel Police.
Online Sex Offence are on the Rise in Canada
In the Firm's R. v. J.A. [2017], Ontario Police ICE Unit received a Cyber Tip from the National Child Exploitation Coordination Centre (NCECC) and the FBI, who received a complaint from the National Centre for Missing and Exploited Children (NCMEC), located in the United States. Ultimately the Firm secured a withdrawal of both Possession and Distribution of Child Pornography in Guelph.
The Firm also defends a number of offenders caught on the Darknet, including where offenders attempt to use anonymous file sharing software, private networks or Tor Browser to avoid detection, such as its R. v. J.T. [2019]. When law enforcement uses advanced forensic tools to attack computers, they are often able to find artifacts of child sexual abuse material. In these particular cases advancing strong Charter arguments and procedural defences are critical.
Law Newbie is a free AI research assistant that can help you safely answer questions about criminal law.




Frequently Asked Questions
Can Drawings or Anime be Considered Child Pornography?
Yes, drawings and anime can be considered child pornography. Section 163.1(1)(a) of the Criminal Codestates that "a photographic, film, video or other visual representation" is child pornography when it is recording or depicting a child engaging in explicit sexual activity, or the dominant characteristic is sexual." This also includes written material. Section 163.1(1)(b) states that "any written material, visual representation or audio recording that advocates or counsels sexual activity with a person under the age of eighteen years" is considered child sexual exploitative material.
It is important to recognize that child pornography is not a victimless crime. Child pornography has a life-long impact on the victims. Often, their abusers are family members or family friends. What's more, their abuse is recorded for other people's enjoyment. Drawings and anime encourage pedophilic tastes and activity. In the case of R. v. Machulec, [2016] ONSC 8219, the offender was sentenced to eight months for possession of child pornography. The 7,694 images were high quality animation that resembled live persons. The offender did not know the law and the illegality of his actions.
What are Considered "Reasonable Steps" in Determining the Person's True Age?
A possible defence for child pornography may be that the material does not meet the definition of child pornography. Sometimes it is difficult to ascertain how old a person is, especially through an image or video. However, this defence depends on a specific individual's unique circumstances.
The Court will examine this on a case-by-case basis, considering factors including but not limited to physical appearance, age differentials, and any knowledge the accused might have. Any pornography with a consenting adult is not child pornography. However, if there is any reason to doubt the age, the person accessing the content must take additional steps to ensure the person is of age. This might include asking for identification. Most pornography also discloses the professional name and age of the actors. If unsure it is best to avoid the situation and not to access the file.
What if Police Come to my House with a Search Warrant?
A search warrant is an order obtained by the judge allowing the police to search and seize items from an individual's residence. In the context of child pornography, the police may have already investigated the matter for months beforehand. There is nothing an individual can do to stop the search, and they must allow the police entry into the residence for a search. If they do not comply, they may be charged and arrested for obstruction of justice. It is important for the suspect to ask for a copy of the search warrant and call a lawyer.
In a child pornography case, an arrest will be executed at the scene if there is enough evidence gathered from the search. During arrest, the suspect will be informed of their section 7, 9, 10, and 11 rights. The section 10(b) right to counsel guarantees the suspect has access to a lawyer. Even if there is no arrest, child pornography is a serious accusation and charge; it is important to call a lawyer and have a bail plan in place.
the Court discussed the lifelong trauma caused by sexual abuse, including child pornography offences. The Court indicated that due to recent increases in maximum penalties associated with convictions for sexual offences involving children, the average sentences imposed should increase as well.
Under the Court's new sentencing guidelines, individuals convicted of sexual offences involving children should be sentenced to upper single digit to lower double digit prison sentences. The Court reference denunciation and deterrence as the primary sentencing principles in these types of cases.
What Kind of Information is it Safe to Tell Police?
The police will often have investigated a suspect long before executing a search warrant for child pornography. When a search is executed, that means they already have reasonable grounds to believe evidence of a crime will be located inside the suspect's residence. In addition, the police may still employ investigative techniques and ask questions about and to the suspect.
There is no information that is safe to tell the police. Anything a suspect says may be used against them in the investigation. They may twist a suspect's words. The only information that is required of a suspect is identifying information such as name, age, and date of birth.
In the case of R. v. A.M., [2023] ONCJ 181, the accused was at home with his wife and two-year old daughter when the police came with a search warrant. He was not arrested or detained but revealed that he had the peer-to-peer file sharing software. After his arrest and detainment, he stated, "Curiosity killed the cat." This statement was included in the judge's sentencing, clearly having left an impression.
What Kind of Information will Police Attempt to get from an Accused During Interrogation?
The police will first investigate the case before any arrest or interrogation is made. Once there is enough evidence, they will obtain a search warrant from a judge. Section 8 of the Canadian Charter of Rights and Freedoms guarantees the right to be secure against unreasonable search or seizure, so the police will require a warrant to search the home. When searching the residence, they will seize all devices that may have child pornography, before sending it to forensic analysis. If child pornography is found at the scene, the suspect may be detained immediately.
After an arrest, the suspect may be interrogated. For child pornography charges, the police will already have some information from their investigations. If a house where child pornography was suspected to be found has multiple residents and multiple devices, they must narrow down who the devices belong to, and who has access to them. The interrogation may not be very robust for child pornography cases, as the police often have incriminating evidence in their possession already.