Defend Drinking and Driving
Crime Statistics
Despite significant public awareness and education over the last several decades, impaired driving kills or injures more Canadians than any other crime. Drinking and driving is also responsible for a significant amount of serious collisions in Canada. Although impaired driving has been on the decline, trends have changed in recent years with the legalization of cannabis.
People who drove after Smoking Cannabis
Reports of Impaired Driving by Alcohol in 2020
Impaired Driving cases involving Alcohol
Reports of Impaired Driving by Drugs in 2020
Our Experience
In the Firm's R. v. D.B. [2019], a prominent Toronto businessman had breathalyzer readings over 200 mgs and was found on the shoulder of the Don Valley Parkway in a $100,000 BMW without gas. After a 3 day trial over 2 years of litigation, the Firm secured an acquittal on all charges. The Firm advanced a number of complicated defences related to police timing in the investigation and arguments related to care and control of a motor vehicle. Ultimately, the accused also testified where he provided exculpatory defence evidence about his intention to drive and when he became intoxicated.
In its R. v. B.P. [2014] the Firm further secured a withdrawal of Impaired Driving where the driver fell asleep in his vehicle covered in vomit, the matter was resolved without a criminal record. Falling asleep in a motor vehicle is often a warning sign for a DUI investigation. It implies the driver could be intoxicated. There is a difference between being impaired and simply blowing over 80. In this case, the defence was able to show the driver was not impaired but simply over the legal limit of alcohol in his blood.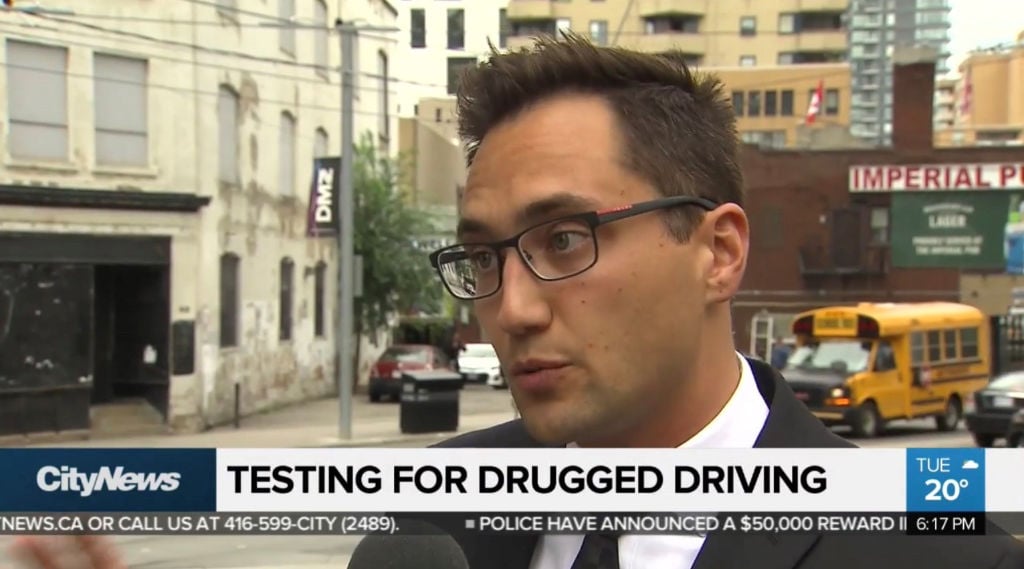 Impaired driving offences pose an ongoing risk to the people of Newmarket, as well as the province and country. A report from York Regional Police authored in 2021 shows 1,383 charges for impaired driving and related offences were laid in 2020. 1, 546 were laid in 2021, representing an 11.8% increase. At its peak, this resulted in an incident rate per 100,00 population of 125.88.
Alcohol impairment was the most common related charge with 981 laid in 2020 and 1,156 in 2021. Drug impairment led to 178 and 180 charges respectively. Combination impairment resulted in 50 and 38 charges across the two years. Finally, and most tragically, there were 5 charges brought for impaired driving causing bodily harm in 2021, 8 in 2021 and one case in both years leading to the death of an individual. This trend of increase and consistency is worrisome and demonstrates why the Canadian legal system treats all impaired driving offences seriously.
Stages of the Criminal Justice System
In its R. v. K.C. [2015] it defended an allegation of Impaired Driving where the female driver had Breathalyzer readings over 260 mgs and was caught trying to conceal open alcohol in the vehicle at the scene of the accident. She was allegedly trying to pass the alcohol to another person in an attempt to hide it from law enforcement. In some circumstances people have been charged with obstructing justice in DUI investigations because of these attempts. Getting legal advice quickly is important to avoid aggravating the situation and eliminating potential defences lawyers could use at trial.
In its R. v. J.F. [2015], it defended a consultant charged with impaired driving for combining and consuming over-the-counter pain medication. Pain medication can still render a person impaired and unable to drive even if it's non-prescription. In this case it was the combination of over-the-counter drugs that rendered the accused impaired. Taking any substance that renders a person impaired while driving will result in a police investigation and testing to determine the particular substance.
What's a Crime in Canada?
The Firm further secured a withdrawal of Impaired Driving and Over 80 in its R. v. M.Z. [2014], where the driver, a daughter of an OPP officer, flipped her car in a ditch and had Breathalyzer readings over 160 mgs. The Firm defeated the charges by excluding utterances made at the time of the collision. It was able to show that officers documented that they did not believe she was impaired initially. The defence was preparing to bring a Charter defence related to these utterances, including whether the accused was given rights to counsel. Like most impaired driving allegations, the matter proceeded towards a trial, only to be later resolved as the problems with the case became apparent to the Crown.
Law Newbie is a free AI research assistant that can help you safely answer questions about criminal law.




Frequently Asked Questions
How Does the Crown Prove Impaired Driving in Newmarket?
There are three common elements that the Crown must prove for a person to be convicted of any criminal offence. The first is the identity of the accused, it must be established that the accused was the person who committed the crime. Second is the date and time that the offence was committed. The final element is jurisdiction. Jurisdiction simply means that the offence is being dealt with in the correct court. For example, if the offence occurred in Newmarket, a trial will be held in Newmarket.
Specific to impaired driving offences, the Crown must prove additional elements as the specific charge may require. Section 320.14(1) of the Criminal Code sets out that the Crown must either prove that the accused's ability to drive was impaired by alcohol and/or drugs; or that the accused was impaired beyond the legal limit, specific to the substance that caused the impairment and had driven within the past two hours. In cases where impaired driving leads to a charge under s. 320.14(2-3) of the Code, the Crown must prove that the accused's impaired driving resulted in bodily harm to or death of another person respectively.
What Evidence of Impairment is Commonly Used in Impaired Driving Cases?
For cases of alcohol-impaired driving, several pieces of evidence can be used to prove that the accused was impaired. If an accused fails the roadside test, they will be arrested and taken to the police station where they will undergo a breathalyser test under the supervision of a certified expert that determines the exact level of a person's impairment. This becomes one of the most important pieces of evidence in the Crown's case. The Crown will also have the arresting officer provide their notes regarding the offence and may have them testify about any factors they observed that might indicate an impaired person. An incomplete list of these factors includes slurred speech, delayed response or disorientation, bloodshot eyes, or the odour of alcohol.
For cases involving drug impairment, the Crown may rely on similar evidence from the arresting officer. At the roadside, police will also call for a Drug Recognition Expert who will come to administer a series of field sobriety tests to check a person's level of coordination. If the person fails, they will be brought into the station to provide a blood or urine sample so the police can determine the substance causing the impairment. If a person is found to have a blood drug concentration over the legal limit that is determined according to s. 2 of the Blood Drug Concentration Regulations for each substance, that will be considered evidence of an offence.
What Happens if Someone Refuses to Comply with a Demand for a Roadside Test?
Refusal or failure to comply with a police demand is an offence under s. 320.15(1) of the Code. It carries the same potential penalties as an impaired driving offence. It is important to know that the police can pull anyone over at any time to make such a demand. They may even make a demand of a person who is not driving if they have a reasonable cause for doing so and the person has driven within the last two hours. Such reasonable cause may include if there is evidence that the person to whom the demand has been made has been in an accident or has been driving erratically.
To prove a refusal offence, the Crown only needs to prove that a lawful demand was made by the police and the person did not comply. The Provincial Court of Newfoundland case of R. v. Gardner, 2021 CanLII 78781 (NL PC) [at paras 34-38] shows how this offence is proven in practice. There is only one exception to this type of offence, physical incapability.
What if Someone is Physically Incapable of Complying with a Roadside Test?
The physical incapability exception only applies where an individual has a significant medical condition that prevents them from complying with a demand to undergo mandatory roadside screening. Typically, physical incapability may be found where a person has respiratory issues that make it impossible for them to generate the sufficient airflow to register on an approved screening device. A person will need to provide some form of proof of this claim. As many people will not have such proof available on the roadside, they will at least be required to provide it during the initial stages of the criminal justice process or the trial itself if necessary.
Can Someone be Charged with Impairment for Being on Drugs Alone?
Under s. 320.14(1)(a) of the Code, anyone commits an offence who operates a vehicle while their ability to operate it is impaired by drugs or alcohol. Section 320.14(1)(c) also makes it an offence for anyone to have a blood drug concentration above the legal limit set out in the Regulations within two hours after driving. If the police can obtain legal evidence of drug impairment, as described in a question above, an offence will have occurred. As was the situation in the Provincial Court of Newfoundland and Labrador case of R. v. Bellows, 2021 CanLII 63715 (NL PC). [at paras 82-85]