Defend Drinking and Driving
Crime Statistics
Despite significant public awareness and education over the last several decades, impaired driving kills or injures more Canadians than any other crime. Drinking and driving is also responsible for a significant amount of serious collisions in Canada. Although impaired driving has been on the decline, trends have changed in recent years with the legalization of cannabis.
People who drove after Smoking Cannabis
Reports of Impaired Driving by Alcohol in 2020
Impaired Driving cases involving Alcohol
Reports of Impaired Driving by Drugs in 2020
Our Experience
The Firm regularly defends law-abiding citizens, without criminal records, who are confronted with allegations of impaired driving. We have represented institutional traders, business owners, regulated professionals, local construction union workers, hospital staff, students and many other young professionals faced with drinking and driving allegations. Impaired driving affects everyone, courts have raised penalties and eliminated defences in an effort to increase deterrence.
After nearly 3 years of litigation, the Firm secured a full acquittal at trial, in its R. v. F.B. [2016], where the accused was alleged to have operated a Skyjack on a construction site, for which keys were found in the ignition. The accused was found intoxicated and witnesses believed he was operating the motor vehicle. People are often surprised that a person can be charged for drinking and driving, even when they aren't in a car. It's also not necessary for the ignition to be on for there to be a conviction.
In the Firm's R. v. M.V. [2017], it defended an impaired driving allegations where the driver struck a motorcyclist on the Toronto Gardiner Expressway and blew over 250 mgs. The Firm was able to avoid serious penalties and resolve the matter with a fine through a joint position. The sentencing Judge attempted to deviate form the plea deal but was prohibited based on the negotiations between the lawyers. Judges can only overrule lawyers in a plea deal in very limited circumstances. If there was a contested guilty plea, the court would have raised the sentence significantly given a motorist was hit.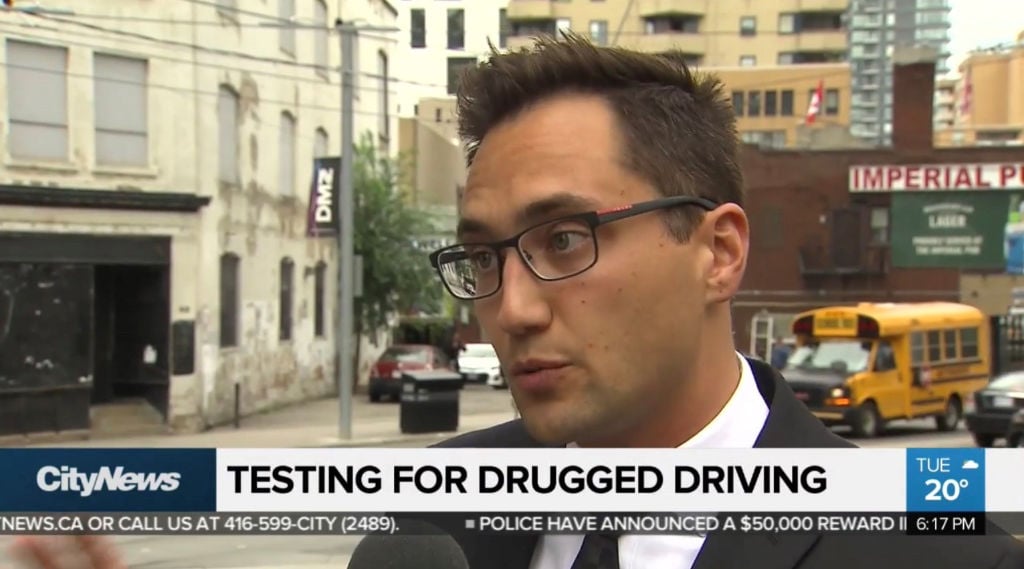 The Firm further defended an impaired driving allegation in its R. v. D.E. [2018], where the driver was in a collision on the Toronto highway 401, injuring another driver and caught walking down the highway, ultimately blowing 160 mgs. The Firm was able to avoid serious consequences by challenging the evidence as the case proceeded to trial. Courts have a 0-tolerance approach to impaired driving, which means sentences have been increasing over the years.
In its R. v. R.B. [2013], on November 2, 2013, a car struck a poll on Clonmore Drive and sliced in two. The driver, walked away with minor injuries. At the hospital, the driver's blood was seized without a warrant and registered close to 200 mgs of alcohol per 100 ml of blood. The Firm excluded the evidence on the allegation of Over 80 and dangerous driving at trial. The Crown was initially seeking a jail sentence given the serious collision and risk of injuries to others. The Firm was able to resolve the matter with a low fine through a joint submission, where the trial judge voiced concern with the lenient position. Courts are required to follow deals that lawyers make and can only overrule in some circumstances.
Stages of the Criminal Justice System
According to a Statistics Canada report from 2021, as of 2019, police across Canada had reported a 19% annual increase in incidents of impaired driving. This ended a downward trend that had continued since 2011. Despite this increase, Toronto had one of the lowest rates of impaired driving among Canadian cities when adjusted for population. Per 100,000 people, Toronto only reported 73 instances of impaired driving, second lowest among Canadian cities. Over the past few years, the rates have declined again, most likely due to the COVID-19 pandemic.
Statistics suggest that men and young adults are the groups of people most likely to be charged with impaired driving. It was also found that alcohol-impaired driving peaks typically around late nights and weekends, but that drug-impaired driving remains fairly constant regardless of time of day or week.
In 2023, the Firm successfully represented an individual charged with impaired driving and over .80 offences in R. v. J.P. [2023]. After being the passenger in the car during a car accident, the client got into the driver's seat and drove away from the scene of the accident. He was stopped a short time later by police as a result. During their investigation into the incident police developed a reasonable suspicion that the client was intoxicated and made a demand for a roadside breath sample which the client failed. The Firm exploited issues with the Crown's case to secure a withdrawal of the impaired driving charges, resolving the matter by way of a careless driving plea.
What's a Crime in Canada?
In the Firm's R. v. M.V. [2014], it secured a withdrawal of Over 80 by high profile Bay Street Investment Banker charged at a RIDE stop with a bolus drinking defence. This result was achieved by obtaining affidavit evidence from witnesses at the party he attended. These people were able to provide details surrounding the time and quantity of alcohol consumed by the accused. There have been recent changes to this defence so it may no longer be an option for defence lawyers to use. A bolus defence essentially challenged the timing of drinking to show the driver was not impaired at the time of driving, but only when they blew into the breathalyzer.
Law Newbie is a free AI research assistant that can help you safely answer questions about criminal law.