Insurance Benefits Fraud Defence Lawyers
Crime Statistics
Fraud offences can take many forms and have become more common as technology becomes more accessible. They can result in victims and Canadian businesses losing significant amounts of money or property according to a 2021 report from the Canadian Anti-Fraud Centre. Statistics Canada provides annual financial crime data on fraud trends across the country, as a general rule, fraud charges are less common than theft.
National Fraud Under $5000 Charges in 2022
Contribution to the Crime Severity Index
Theft Over $5000 Charges in Canada 2022
Unfounded Incidents of Fraud Under $5000 in 2022
Our Experience
Donich Law has been capable of not only defeating but concealing insurance fraud investigations. These investigations typically commence with audits aimed at reconciling claims with practitioners or billing providers. While many investigations originate in Ontario, the insurance providers' location, they often span the entire country, involving employees and law enforcement agencies in provinces like British Columbia, Alberta, and Quebec.
The first indications of a suspected insurance fraud investigation will be the suspension of access to claims or benefits coverage. Subsequently, these investigations progress through stages, including workplace inquiries, employee interrogations, and ultimately, criminal charges. Defending against insurance fraud investigations proves exceptionally challenging due to their complexity. Successfully safeguarding the client's interests demands a comprehensive understanding of insurance, employment, regulatory, and criminal law. The challenge escalates further if the individual under investigation holds a professional license, such as those in accounting, education, nursing, dentistry, or other healthcare fields, as regulatory bodies conduct independent investigations.
Donich Law has successfully defended insurance fraud allegations ranging from as low as $200 to $60,000. The Firm has successfully defended clients against investigations conducted by law enforcement units such as York Region Organized Crime Bureau and Durham Financial and Organized Crime Unit, involving both employees and billing providers like dental clinics.
The Criminal Code states that an individual commits fraud when he or she, by deceit, falsehood or other fraudulent means defrauds any individual or the public of any money, property, belonging, service and/or security. The accused must have intended to defraud the individual or public. Fraud happens in a wide variety of contexts and situations and our office has experience handling a variety of fraud related charges, including insurance fraud. Insurance companies are conducting joint internal investigations with the plan member's employer and providing evidentiary briefs to law enforcement. In many cases, these offences are treated as internal employee thefts, since the fraudulent payment(s) received were funded by the employer. The Firm has been involved in several insurance benefits fraud investigations, which are referred to police by Sun Life, Canada Life and Manulife.
In the Firm's Case No. 20*****6 it resolved two insurance fraud allegations where an accountant was alleged to have defrauded two separate large Bay Street accounting Firms in Toronto, after quitting the first job and migrating to new employment. We were also able to broker a resolution where the employer would not report to law enforcement, ultimately avoiding a criminal investigation.
In September 2022, Jordan Donich defended at $21,000.00 Sun Life benefits fraud investigation with a large Canadian Bank in its Case No. 35****0. The employee had allegedly been making false psychology claims and received cash including under her partners benefits plan with Sun Life. This jeopardized the employment, income and liberty of the entire family unit. Both Sun Life and the bank confirmed reporting to law enforcement in British Columbia. The Firm was able to quickly challenge the credibility of the therapist and provided fresh defence evidence. The matter was then discreetly resolved without a termination or criminal charges.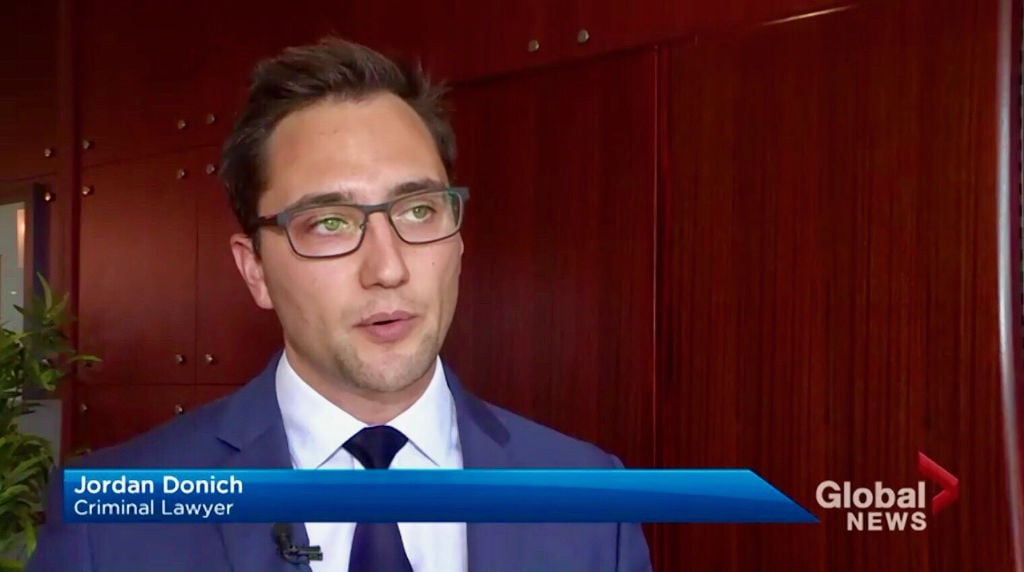 The Firm regularly defends plan members facing allegations of insurance fraud from Sun Life Financial, Manulife Financial, Green Shield, Desjardins and Great-West Life Insurance among others. Although most insurers are based in Waterloo, Ontario where investigations are conducted and prosecuted, we have helped clients in many parts of the country. These insurance companies have recently developed sophisticated data mining software to apprehend plan members claiming insurance benefits through mobile apps and online claims. The University Health Network recently recovered 2 Million Dollars for Sun Life Insurance from hospital employees fraudulently claiming, massage therapy and chiropractic services among others.
The English Catholic Teachers' Association and other Teachers' Federations have been aggressively investigating, terminating and referring insurance fraud allegations to law enforcement throughout Ontario. The evidence is also being referred to the Ontario College of Teachers for widespread prosecution and published online, including the College of Nurses. The Firm has also represented members of the TTC in complex insurance schemes and acted for Doctors and Dentists accused of inflating or misrepresenting claims for services rendered to a number of insurance companies.
In the Firm's Case No. 20****4 it resolved an $18,000.00 Canada Life Insurance Fraud allegation where the spouse of the customer was allegedly making false claims without the knowledge of the plan holder. This is a surprisingly common occurrence. The matter was referred to OPP Police for investigation. Over a period of 12 months, the Firm was able to tactically navigate the investigation which ultimately led to no criminal charges for the plan holder our his spouse.
In April 2021, the Firm resolved a $15,000.00 Manulife Fraud with a large U.S. Tech Employer in its Case No. 21****5. The incident was in the process of being referred to law enforcement and involved alleged false massage, psychology, physiotherapy and dental claims. The Firm was able to negotiate a resolution with U.S. Legal Counsel in California over 4 months which avoided any reporting to the police. Ultimately, the customer was able to obtain new employment discreetly and contain any serious career damage.
Punishments for Fraud Depend on the Value of the Property
The Firm defended a husband and wife under investigation for insurance benefits fraud reported by Manulife in Ontario in its Case No. 83****3. The couple resigned from their employment during the investigation hoping to avoid consequences prior to retaining the Firm. Eight months later, they were contacted by the RCMP in Alberta for an arrest for fraud over $5000. In a rare occurrence, Jordan Donich was able to halt the arrest before charges were laid. This is typically a risky strategy, as the evidence could have been used against the clients, but was successful at preventing an arrest and the further damage associated with being fingerprinted. The couple did not have to attend the division nor were they ever charged with any offences.
The Firm has successfully defended employees facing allegations of insurance fraud at RBC, CIBC, TD, Scotiabank, RBC, KPMG, PWC, EY, City of Toronto, Canada Post, Canada Pension Plan, Canada Revenue Agency, Toronto Fire, Durham Police, Provincial and Federal Government, Cisco, Salesforce, Air Canada, Members of the Toronto and Catholic Teachers' School Board, Toronto District School Board, Ontario Teachers Insurance Plan (OTIP) members, and many other businesses across Canada. The Firm also works for businesses being investigated for insurance fraud stings, including orthotic schemes where numerous employees of the same organization often attend and are collectively investigated. These are joint investigations between the insurer, employer and law enforcement where information is shared and collaboratively gathered for prosecution.
Many employers such as Canadian Banks, Accounting Firms, Teachers' Unions and Pension Plans, Ontario Teaches Insurance Plan (OTIP), Tech Sector Employers, Hospitals and Health Care Providers, Crown Corporations such as Ontario Power Generation (OPG) and Canada Post, all levels of Municipal, Provincial and the Federal Government(s) are jointly investigating, terminating and reporting employees caught with benefits fraud to law enforcement.
We are one of the few businesses which handles multiple aspects of insurance fraud litigation including civil, employment, regulatory and criminal defence. This reduces the need to hire multiple Firms for complex problems.
How to Defend Fraud Under $5000
In June 2021, the Firm resolved a $16,000.00 Sun Life Financial benefits fraud with a Fortune 500 American company with offices in Toronto in its Case No. 42****9. The alleged fraud extended back approximately 5 years with multiple family members. When the fraud exceeds $5000, it almost always involves alleged false claims from multiple people over an extended period of time. Sun Life reported the discovery to the client's employer. The Firm conducted 6 months of independent investigation and was able to establish problems with the delisted business, ultimately saving the client's job without any notification to law enforcement.
In February 2021, the Firm defended a Canada Post employee alleged to have defrauded Sun Life $8000.00 in its Case No. 03****2. The matter was referred to Ottawa Police by Sun Life and the accused contacted for investigation. The Firm was able to challenge the alleged false claims and ultimately saved the accused's employment after negotiations with national legal counsel, including avoiding criminal charges. This was an exceptionally rare outcome as nearly every employee is terminated where some evidence of fraud exists.
In the Firm's Case No. 42***4, it resolved a dual insurance fraud investigation between husband and wife who were employed at the same Crown corporation in Ottawa. The value of the alleged loss exceeded $5000.00 between the couple. Both were internally investigated in relation to the joint Sun Life and employer probe which extended several years of claims. The investigation was complicated, given the financial stability of the entire family unit was at stake. The Firm was able to save the employment of its client, avoid any reporting to law enforcement, including without paying any restitution.
In October 2020, after nearly 18 months of litigation, the Firm resolved a $34,000.00 Sun Life fraud investigation for a Dental Clinic without criminal charges in its Case No. 84****3. Like many insurance fraud allegations, the matter was reported to police and investigated by financial and organized crime in York Region and referred to the RCDSO. The Firm achieved the result by challenging the admissibility and reliability of the evidence.
Law Newbie is a free AI research assistant that can help you safely answer questions about criminal law.




Frequently Asked Questions
What is Insurance Fraud?
Insurance fraud encompasses various deceptive acts committed by plan members with the intention of securing payments from insurers through fraudulent means. The definition of insurance fraud is broad, covering a wide range of activities, and the seriousness of the offence can vary significantly between cases. These fraudulent acts can include minor exaggerations of damages in a claim, intentional lies or omissions on an insurance application, or even deliberate actions causing damage to claim insurance payouts. Apart from exaggerating or falsifying a claim, omitting vital information on a claim also constitutes insurance fraud.
Insurance fraud isn't limited to physical property; it also extends to personal injury claims, which are equally grave offences. Personal injury fraud involves fraudulent claims related to physical injuries purportedly sustained in an accident. This type of fraud may involve exaggerating or fabricating injuries on an insurance claim, claiming pre-existing conditions or injuries unrelated to the accident, inflating the recovery time for an injury, or healthcare practitioners falsifying injuries to overbill for medical services.
Perpetrators of insurance fraud can vary widely, including organized crime groups, everyday citizens, and even healthcare providers. Healthcare providers, for instance, might commit fraud by billing for services they never provided. This form of insurance fraud is often systematic and can lead to substantial amounts of money being defrauded from insurance companies.
How Does the Crown Prove Insurance Fraud?
Similar to any criminal case, securing a conviction in insurance fraud cases requires the Crown to establish two crucial elements: firstly, that the accused engaged in an activity prohibited by the Criminal Code, and secondly, that the individual had the intent or a "guilty mind" to commit the offence. If you are facing fraud charges, the Crown must present compelling evidence in court demonstrating that you carried out deceptive or fraudulent acts, causing some form of deprivation. This deprivation can manifest as a tangible loss or even jeopardize an economic interest. Additionally, the Crown must prove that you were fully aware of the fraudulent acts you were involved in. Alternatively, the Crown may demonstrate that you were conscious of the risks associated with your actions and still proceeded despite this knowledge. In cases specifically related to insurance fraud, the Crown must also establish that it was the insurance company that suffered economic losses due to the fraudulent activity.
What are the Consequences of Committing Insurance Fraud?
As with any criminal offence, being charged with fraud in relation to an allegation of insurance fraud is a very serious matter. If you have been charged with fraud due to an alleged false claim against your insurance company, it is important to contact qualified legal counsel immediately. Our Firm has experience handling insurance fraud cases and can guide you through the process in order to obtain the best possible outcome.
Financial Consequences
Aside from the criminal penalties that result from a fraud conviction (as outlined above in the section entitled "Fraud and the Criminal Code"), there are also possible financial implications. If an insurance company can prove that an insurance claim was made fraudulently they will automatically deny coverage on the claim. This leaves the cost of repairs for any damages or loss of property up to the accused to cover. Additionally, an insurance company may sue an accused for any damages that they may have incurred in relation to the fraudulent claim. Finally, insurance companies are likely to deny future coverage to an individual who has been convicted of an insurance fraud offence.
Employment Consequences
Being convicted of fraud in relation to a fraudulent insurance claim is a serious offence that could have serious implications on an individual's employability. In today's job market many employers require regular criminal background checks before they will employ anyone. Many employers are reluctant to hire an individual with a criminal record, particularly a record of fraud. The best approach is to be totally upfront about your criminal record from the outset.
Travel Consequences
Having a criminal record can affect an individual's ability to travel outside Canada. Many foreign jurisdictions are reluctant to admit individuals with past criminal history. Particularly, the United States may refuse entry to those with criminal charges including fraud offences. A U.S. waiver may be required for travel in the U.S. to ensure entry.
Immigration Consequences
Citizenship and Immigration Canada require thorough background checks on everyone admitted to Canada as an immigrant or permanent resident. Having a criminal record can negatively impact your immigration or permanent residency and it is very likely that having a fraud conviction can exasperate the process and possibly cause the application to be denied.
Does Paying back the Money avoid Liability?
Many people want to instantly pay back money to avoid potential employment, regulatory and criminal consequences. They often feel that because the value may be low, they will not be prosecuted. Unfortunately, the value is not relevant and the cases with the most evidence are likely to be prosecuted more aggressively. Employers will often grant employment amnesty if the employee comes forward and returns the money, however, this does not protect the employee from reporting to law enforcement and/or regulators. This perceived pardon is only for the person's job which becomes redundant when they are later criminally charged or reported to their regulator. Nurses presently working at UHN and Baycrest Hospital are now being prosecuted 2 years later by the CNO, after they repaid funds to the insurance company.
The insurance companies often demand payment for large sums of money dating back years. Unfortunately, paying this money back whether or not the allegations may be true does not necessarily stop criminal charges, civil prosecution or employment consequences. The Firm has experience defending allegations of insurance fraud across the entire spectrum, including having clients retain the Firm months after payment is made when law enforcement gets involved.
In many cases, the Firm has negotiated a resolution without the notification of law enforcement, thereby avoiding charges and a criminal record. Insurance companies will often protect their interests, specifically indicating that any re-payment for questionable claims will not limit the insurers right to consider further action, including referral to law enforcement, employers or regulators.
How do Insurance Companies Combat Insurance Fraud?
Insurance companies typically implement rigorous measures to combat insurance fraud effectively. Larger companies frequently maintain specialized departments dedicated to the detection, prevention, and prosecution of insurance fraud. These efforts are geared towards minimizing costs, enabling insurance companies to offer their customers the most competitive rates. Consequently, businesses frequently pursue legal action against individuals found guilty of insurance fraud, ensuring that perpetrators are prosecuted to the maximum extent permitted by the law.


How Insurance Companies Operate
Sunlife Fraud Investigations
Sunlife Financial operates as a multinational insurance firm, specializing in providing group benefits and insurance services to healthcare providers. Similar to other large insurance companies, Sunlife has a dedicated anti-fraud team, known as fraud risk management, consisting of experienced professionals. Their primary objective is to identify, investigate, and prevent fraud within the organization. Sunlife employs advanced techniques, primarily data mining and algorithms, to achieve this goal.
Data mining involves the meticulous collection and analysis of vast amounts of data to unveil patterns in the filing of insurance claims. This meticulous process enables Sunlife to identify suspicious claims or unusual patterns in the submitted claims. Claims that raise suspicions undergo further investigation by a team of experts. These investigations can encompass a comprehensive analysis of the business practices associated with a company filing an insurance claim and may involve surveillance of individuals or businesses. The findings of these experts are integrated back into the system, indicating which claims are fraudulent and which are genuine. This continuous feedback loop allows Sunlife's anti-fraud system to enhance its accuracy over time.
In cases where fraud is confirmed following an investigation, Sunlife takes decisive action. The individual or business involved is typically blacklisted, meaning they are denied any further insurance coverage. Additionally, Sunlife does not honor fraudulent claims and may initiate legal proceedings to recover any damages incurred due to the fraudulent activity. This rigorous approach ensures the integrity of Sunlife's insurance services and protects both the company and its clients from fraudulent practices.
Manulife Fraud Investigations
Manulife is renowned as one of the world leaders in insurance fraud detection, prevention, and investigation, Manulife employs a robust strategy to thwart insurance fraud, focusing on early detection and prevention. Their dedicated team of anti-fraud investigators is instrumental in identifying, combating, and deterring healthcare fraud, healthcare abuse, and group benefits fraud.
Manulife utilizes a range of sophisticated techniques to combat insurance fraud effectively. Central to their approach is a specialized anti-fraud system capable of swiftly and efficiently scanning and analyzing millions of insurance claims submitted by customers. This system discerns between legitimate and fraudulent claims, drawing on archived data to detect deviations from normal billing patterns and monitor the prescription rates of narcotics by healthcare providers.
Additionally, Manulife relies on a highly experienced team comprising consultants, anti-fraud experts, healthcare professionals, and law enforcement personnel. This skilled collective collaborates to analyze data from various claims, diligently detecting and investigating potentially fraudulent activities. In instances where fraud is suspected, Manulife's Business Integrity department takes decisive action, pursuing criminal prosecutions against the accused and initiating possible civil actions.
Furthermore, Manulife's adept anti-fraud team not only focuses on eliminating existing insurance fraud but also provides valuable consultation on how to safeguard against future fraudulent activities, ensuring the ongoing integrity of Manulife's insurance services.
Great West Life Assurance Company
The Great West Life Assurance Company, a prominent Canadian insurance provider offering diverse insurance products to individuals across Canada, including group benefits, maintains a robust anti-fraud initiative. Similar to other major insurance firms, Great West Life employs a dedicated team of highly skilled anti-fraud analysts who tirelessly work to detect, combat, and prevent insurance fraud.
Great West Life Assurance employs a variety of anti-fraud techniques commonly used in the industry, including data mining, algorithms, and their expert team of professionals. These methods are instrumental in identifying suspicious claims, which are subsequently referred to the anti-fraud team for in-depth investigation. In addition to these techniques, Great West Life Assurance also implements random auditing as a preventive measure. For instance, in 2013, the company conducted random audits on approximately 180,000 customers who had submitted electronic claims, requiring them to provide receipts for verification. Customers failing to comply with such audits risk having their ability to submit electronic claims suspended and be prosecuted.
Upon positive detection of fraud by Great West Life's experienced team, appropriate actions are taken based on the specific case details. Responses may include demanding reimbursement for fraudulently paid claims, initiating civil lawsuits against the alleged fraudsters to recover damages, blacklisting individuals from future coverage with Great West Life, or even escalating the matter to law enforcement for formal criminal charges. These outcomes carry significant consequences, profoundly impacting the lives of those involved.
Green Shield Insurance Canada
Green Shield Insurance Canada operates as a leading Canadian insurance company, specializing in offering supplementary health and dental insurance to Canadians. This coverage is specifically designed to cover unforeseen medical expenses not covered by the provincial government's universal healthcare system. To safeguard their customers from escalating rates, Green Shield diligently focuses on detecting and preventing fraud before it occurs. Many municipal governments, such as the City of Toronto, use Green Shield as their insurance benefits provider.
Employing a proactive approach, Green Shield utilizes various tactics to identify and prevent fraud in its early stages. One of their key strategies involves the careful approval and rating of healthcare providers. Before being listed on Green Shield's website or app, healthcare providers undergo thorough evaluations to ensure they are in good standing with the relevant government authorities. Once approved and added to the platform, these providers are continually monitored by Green Shield's fraud department. Any suspicious claims are flagged, and the providers receive ratings that determine how future claims submitted by them will be handled. Providers with lower ratings undergo more stringent scrutiny before Green Shield approves any payouts, enabling the company to intervene proactively and prevent fraud from taking root.
Additionally, Green Shield actively monitors the customary rates associated with various medical and dental procedures. This vigilant oversight helps reduce the number of exaggerated claims submitted by healthcare providers, further bolstering Green Shield's efforts to maintain the integrity of their insurance services. By adopting these measures, Green Shield Insurance Canada effectively safeguards their customers from fraudulent activities and ensures the stability of their insurance offerings.
Canada Life Insurance
Canada Life Insurance is a large Canadian insurance company with offices across Canada. Canada Life provides clients with workplace health benefits, health and dental insurance, critical illness insurance, life insurance, disability insurance and more.  Like all large insurance companies, they employ a substantial fraud detection team. In addition to uncovering fraud that has already occurred, Canada Life also employs a fraud prevention team whose purpose is to stop fraud from occurring in the first place.
Canada Life's fraud detection team employs various sophisticated techniques to uncover fraud. One of these strategies includes widescale auditing of claims. Auditing is process by which the fraud detection teams scans through millions of claims and attempts to verify them. This may include verifying claims with the service provider directly. Where the team is unable to verify the claim, they will typically reach out to the policy holder and request proof that the service was in fact rendered. If the policy holder is unable to provide proof, the insurance company will come to the conclusion that the claim was fraudulent and will make a repayment demand. Once Canada Life determines a claim was fraudulent, it is up to their discretion whether they will report it to law enforcement.